I've been reading some crazy good stuff lately. When i go to a comic book store nowadays, i think "Hey, if i've been this harsh with comics for so long, maybe i should just give up on comics like how some dads give up on their other family." Like a sick part of my brain, wants to buy comics just to hate on some shit, but like a lot of comics don't even inspire hate. You ever hear something described as so 'meh' its 'meh'? That's what's mostly everything, you don't even wanna review it, you just want your time back. But you can't ever get that time back, and why waste time not being passionate. I love haters, i love lovers, i even respect a motherfucker who tells me that they LOVED Man of Steel. Shit, i can't take that away from you, no matter how many times i tell you you're wrong. You are wrong, you should not like that movie. But even myself, i've watched Man of Steel like 3 times now, and it's fun to hate. It is inspiring. It is inspiring in the same way as Shia LaBeouf's face is inspiring to punch.
So i've changed my approach. I'm no longer getting random comics from Floating World, i'm no longer even really caring what the words on the page say. Truth to be told, the writing is usually the weakest part of a comic. Writers are like grilled cheese instructors. Some dudes need instructions to make a grilled cheese. Do you put the butter on the pan first or on the bread? How many slices of cheese? But the artist is the one who brings the ingredients and puts them together. I'm not saying all writers are this lame (i'm not contractually obligated to say NOT MY WRITERS, but i'm gonna say NOT MY WRITERS, cause i really like working with Douglas Wolk, Joe Casey, and Erick Freitas – shout outs), but a lot of writers could use a refresher course on not being lamer than the end of a horse racing movie. I only go looking for that high level, pure shit. Art that makes me regret leaving it in the store. Art that makes me feel small, makes me feel stupid, makes me feel like if they ever dated a girlfriend of mine, i'd know i couldn't measure up. So this is the stuff i've been pretty happy to read.
I'll start with the floppies, which i mostly avoid.
Star Slammers by Walt Simonson
So who doesn't like some Walt Simonson. I found the story nearly incomprehensible, these are like a race of mercenaries, the BEST mercenaries, and they can just beat up everyone. I read this nearly at the same time i read the Metabarons, and they are almost identical in the way they approach this race of bad-asses. I don't know if its a swipe or whatever, probably someone who reads a lot more comics can nerd me out on this, but its basically a whole race of perfect superdudes. Kind of if you liked Thor, Superman, etc. but thought they needed more guns and klingon style dialogue. But the art is pretty star slamming. Something about those fat lines, the little ink scratches on the edges of armor, the stippling and kirby krackle, you can understand how this style evolved into the "put scratches on all textures and faces to look cool" style of the 90's.
So the whole thing has got that retro appeal, with ridiculous costumes that don't look ridiculously bad. Its strange, you see all the weird knee pads, shoulder pads, gauntlets and helmets, and you just think "That works." I don't know why even Kirby's giant Galactus Helmet works, but they are so outlandish that they just read as "legendary". With superheroes, there's like an uncanny valley with costumes. Very close to something we can make/buy ourselves, we accept it. Something that goes to the other extreme, that's cool too. But that weird spot in the middle, just looks like bizarro pajamas. Compare movie Thor to movie Superman –
The most impressive part of the art is some truly innovative panel layouts. The scene where all the warriors are trying to mind link, is done with these fractured layered panel grids, some of which are full-white out until they finally unify as one connected mind, on this perfect grid. It looks like it would inspire a hundred imitators to do poor imitations of this sublimely simple device. Remember, everything you love about comics, you'll eventually see a shitty version of. Star Slammers was fun, even with its goofy story, and i love the proto-Warhammer 4o,000 designs.
The next floppy i picked up was that latest She Hulk #5 by Charles Soule and Ron Wimberly.
I've read the previous issue, and Soule's got some light elegant writing. I ain't mad if i keep reading this, but i'm not reading cheap tricks to try to force drama or write so little story i have to buy the next issue. Half these comics nowadays feel like they are asking you to deposit 50 more cents to finish your phone call with a sex line. You're always just so close to being satisfied before the writer starts acting coy again. Just giving me the damn story in 22 pages or less, is that so hard? Last issue of She Hulk, she's rumbling with Dr. Doom, and it was funny and She Hulk brings more than just punch punch pow to every situation. Same here with #5, which is illustrated by the ever-kinetic Ron Wimberly.  I don't know why everything is done with a fish eye lens, but i like it, and it makes you feel like you're watching the dopest Busta Rhymes video featuring Marvel Superheroes. Even a scene of She Hulk and the Shocker having some chinese food is infused with a cool energy.
He's got that head nod shit, that makes you break your neck. Woo-Hah! He's got you all in check
On to the next one – Batman Incorporated #13 by Grant Morrison and Chris Burnham
It took me awhile to actually finish reading this one, even though its a year old. There was some shit about Talia Al-Ghul, their son, blowing up Gotham Tower, tearing up Gotham City, blah blah blah, It wasn't actually very interesting. It almost felt like Morrison was tired of writing this story, cause it wasn't so much an epic conclusion than just a "I'm gonna leave the bathroom cause i can't shit anymore, but i still feel like i have to shit". But don't let this get you down, cause i got this for Burnham.
Lately i've been seeing a lot of Mike Allred, and it's like i've hit an over saturation point with his work. It's not that i think he's a bad artist, i think his stuff is great, but it feels like it's gone as far as it can go. If i've seen one faux-retro Allred piece i've seen them all. The colors, the lines, every human face. Why am i talking about this? Because i remember when i first saw Chris Burnham's work, and my first thought was to dismiss him as a Quitely clone. I wasn't into it, like someone switched my mayo for miracle whip. But he's an artist that i think has more ahead of them than behind them. I really like his work now, and part of that is that it keeps looking fresh. For a Batman comic, which is always so deadly serious, its nice to see a sense of fun. Here's a world where a dude has made a whole gang of Bat-dudes. It's like watching that Warriors movie. The faces are gnarly, and that scene above, feels closer to the tone of the sixties Batman show, than any of the Batman '66 comics i've read.  Chris Burnham is more Allred than Allred at this point, and it's only because Burnham isn't getting comfortable. Below is a variant cover for Aquaman, in which Allred simply swiped images for underwater creatures from google imaes. Go ahead, google "megamouth shark" "frilled shark" and "hydrothermal worm", its like he copied and pasted them on to the page. This is still a cool cover, but you can see that the least amount of effort has gone into it. Swiping is only cool if it says something about what you just swiped or you transform it enough, otherwise you're just being lazy. I hate lazy artists. I really like Chris Burnham. Since its a year old this comic, i should see where he's at now.
Swampson by Bjorn Daniel Miner
Bjorn gave me this comic at a signing. It is a pretty little package, thin and hefty. When i see work like this, it makes me proud of all the artists who are striving to make comics. Most of the time, all i feel is anger at going to a small press show, and table after table has identical looking work. They've all figured out that most of their currency will be in trades, so everyone's trying to get rid of their hyper-inflated currency. Its three short stories, all of which have some pretty funny moments, without having to resort to drug and/or genital references to get its edgy laughs. Its refreshing to read an indie humor comic that's not trying to fulfill all of Vice Magazine's editorial mandates (Please add someone on the toilet, please add crude sexual antics, please write something that will be offensive on tumblr).
The best story is the one about the jerkwad kid trying to get into the main characters' tree house. The Jerkwad isn't entirely unsympathetic, but he goes to pretty disturbing extremes to get what he wants. I remember when my brother and I were kids, we had a neighbor who was our enemy. We never walked past each other without yelling at him, and vice versa. But we could never understand why the kid would pull his penis out at us. The kid would drop his pants and swing his dick around, and we'd be disgusted and tell him that he's gross. This is how the stories in Swampson feel, you don't know why they are doing this, and kids often have the most mysterious motivations, but it all makes sense to them. Bjorn ties it all up though, and it never feels like he's just writing stream of consciousness comics. The stories are dreamy and strange, but the writing is on point.
Adventures of a Japanese Businessman by Jose Domingo
This is probably the best comic i've read in months. A static panel layout, and within there's the craziest adventures of a static character. If you've ever played the videogame Katamari Damacy, you'll know the joy of turning a corner and finding some strange scene playing out that you could not imagine. The colors are so vivid, and the movement through the world is so animated, it made me want to stop what i'm doing and draw a comic in this same format. I want this to be a genre of comics in itself, something everyone tries their hand at, just to see what they come up with when they only impose the fewest rules on themselves, but follow them strictly. The book, published by NoBrow, is also a beautiful object in itself, with a hard cover and spot gloss. Really, you should have this in your collection, because it's a book you'll keep coming back to for inspiration.
Metabarons by Jodorowsky & Jimenez
This is one of those comics that i've been meaning to read for a long time. You know, one of those things you're embarrassed to say you haven't read? This is it. I finally got a chance to pick it up, and it is as beautiful as everyone says. Its like if Star Slammers started working out one summer, lost all its baby fat, and the next time you saw him, you're all like "Daaaaayum!" But the story leaves something to be desired. It's mostly repetitive like the bible. This dude begot that dude, this person slept with this person and begot this person. There's incest, father-son rivalries, and the women are there to just keep the genes going. I didn't care that the story wasn't mind-blowing, because the art often was. Alien vistas, strange civilizations and awesome mega-violence that never lets up for hundreds of pages. The sheer size of the thing is impressive alone, and i wouldn't be surprised if this didn't have its own religion in 100 years. At least it wouldn't result in wimpy Jedi-faith followers cosplaying in bathrobes.
Finally, the last great book i got, wasn't a comic, but a book of Maps by by Aleksandra Mizielinska and Daniel Mizielinski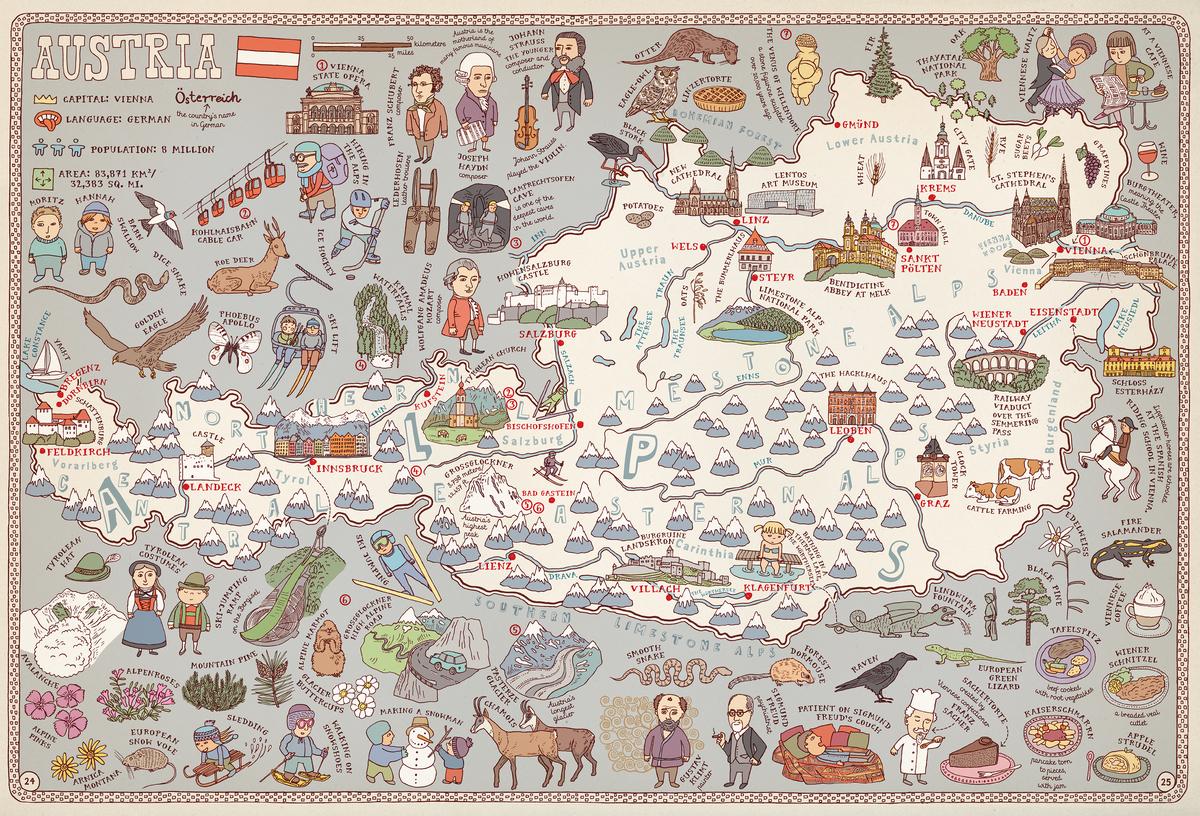 I always say that my biggest influence in my life, when i started out drawing, were children's books. Children's books have an efficiency to them. It becomes impossible to find what you're looking for on wikipedia or google, because you're not allowed to browse or aimlessly explore. Children's books provide an entry way to a billion concepts, without being overwhelming. Perfect clarity is necessary for a simple understanding, and simplicity encourages further exploration. Combining maps with hundreds of adorable illustrations related to each place is the perfect introduction to a new world. A world that we live in and never know enough about. For seasoned pros or new creators, this book is a must have for anyone who loves maps, world building, and history.
All of these comics and books i was happy to have read, because each one has planted seeds in my head for my own art. What if i draw maps more like the Mizielinskas, or how do i refine my work to Juan Gimenez's level? The energy of Wimberly, or the playfulness of Burnham? I never review comics for other people, those reviews are always in my head. My harsh approach is universal, because it must inform my own work. A lot of conversations about criticism are always demanding GOOD CRITICISM, and i've read more effective criticism about criticism than i've read of actual criticism. It's all pretty circle-jerky. But what is criticism for me? It's just a way of putting in words, not what i want from the comics medium, but what i want from myself. All the hate and harshness, all the praise and pleasure – Its just a letter from my future self. People get the impression that i think i'm the best there is, but doing most creative work, often feels isolating and depressing. You're doing all this work, for what? Because there's an 85 year old man, somewhere in the future, who is everything i want to be. I'll never become that man if i don't believe that he's better than i'll ever be, or that comics can be better than we ever expected.
Thanks for reading.
---