My god…is this another comic review?! But, wasn't I done reading comics?! Wasn't i done writing about comics?! Nah. Escobar Season has returned. It's been a long time coming. This is what makes me, this is what i am.
Anyway, this is what i read this week:
Man, this comic was cornyyyy. But corny in the same way Prince Valiant is corny. It begins with Flash Gordon bungee jumping, which already wasn't cool anymore when Vin Diesel did it in XXX, and maybe the last time i was impressed with seeing bungee jumping was when Alicia Silverstone did it in that Aerosmith video. I was crying when i read you, but now i'm trying to forget you. Haha, just kidding. I really just wanted to use that joke, and it just fit so well. Honestly, sometimes i come up with the joke before the criticism, and it's just gotta fit. I actually enjoyed this comic. There's really no way to tell an old dime-novel style comic like this in a modern way, you just gotta embrace the pulp like its your morning orange juice. The story jumps around a bit, but i prefer a comic gets to the fun parts in a #1 than try to convince me how smart it is. I'm surprised this wasn't marketed as a kids book, cause it's got some nice safe adventure, big monsters, jetplanes and an evil dude named Ming. It seems like only yesterday where Ming was an evil racist stereotype. We don't have racist characters anymore, we just cast white men and ignore the faux-eastern naming cliches.
Fortunately, with places called Mongo and Arboria, the "Ming" Thing doesn't really stand out. What does stand out is some beautifully illustrated locations, some of which i wish we'd get to see more of. But this being a #1, if they keep the same artist, i'm sure we will. One thing i HATE is when they switch an artist mid-book, or worst – MID COMIC, just like this comic called:
MAAAAN, LOOK HOW DOPE THAT COMIC COVER IS. This is probably why Marvel chose to make a Guardians of a Galaxy movie. Pure Visual Spectacle. That's what so exciting about the Marvel movies, they haven't forgotten how to entertain. They don't get bogged down with useless continuity, boring melodrama, or overwritten plot mechanics. Unfortunately, Marvel comics DO. Its not dog-shit terrible, but its like stale popcorn bleh. Recycled plots of father & son conflict (He doesn't hate his father cause he wasn't there for him, he hates him cause he's a Warlord!), Groot goes off and saves some forest creatures from being hurt and is banished for it (Of course this ancient civilization hasn't figured out a proper justice system yet! Of course!) and there's the old cliche of a futuristic Captain America still instilling hope in some futuristic slave folk and somehow recycles superhero costumes from 1995. For an Anniversary Special, i was definitely not inspired by its history, nor inspired to read more. All the cliches would've been fine however, if it was just fun. It's just so damn serious. And there's like 2 panels of Rocket Raccoon. C'mon, that's your breakout star. Seriously?
This wasn't that bad. I don't even got much to say about it. I like Punisher, he's a character i just like to read, regardless of writer/artist a lot of the times. Sometimes i'm pleasantly surprised. I think there's two ways to go about him, you either go true-crime hardcore porn-equivalent of shooting people or you go DieHard Gallows Humor approach. This doesn't really do either. Franky is tracking down a drug network. Drugs are bad, Reagan said so. I'm a bit surprised, that even nowadays, so many people have thoroughly swallowed the "Drugs are Bad" kool-aid, that its never even considered that perhaps the low level drug runner in the alligator infested swamp in the middle of the night, might not want to be there, and the economy is only being kept afloat by the drug trade, which only exists because of abusive global policies on the part of the United States. Yeah, geopolitics, ain't nobody got time for that. But fuck it, drugs are bad. So Franky gets info from drug runner, kills him. This info is reliable, he goes and finds the name the drug runner told him. Kills him. He goes and finds the distribution point and blows it up. Its so straight forward, gots no twists, no turns, it makes me feel like the Punisher should have an existential crisis in the first issue. "Is this just getting too easy?"
This comic made me laugh. I hem and haw about technical skill a lot. I just can't stand a poorly drawn comic, indie or mainstream or whatever the fuck those terms mean. I just think skills over everything, no excuses. And for sure, this comic has skills that pay the bills. The drawings are crude, messy and sometimes hard to understand, but it's all in the service of a good joke. Cause the jokes are crude, messy and a bit hard to understand too. There's at least three references to beastiality and it's lovely. There's a girl who has a crush on a secretive frog. It's partly creepy, like white guys in thailand, but also very satisfyingly silly. Drawing mistakes become fodder for jokes, and jokes run on too long until a strange drawing happens and brings it all together. Technique isn't just about pretty lines, but knowing exactly what kind of line you wanna draw. Don't try to draw a straight line and then call whatever kinks its got your 'style'. Own it, learn how to compose it. Jammers got good jokes and funny drawings.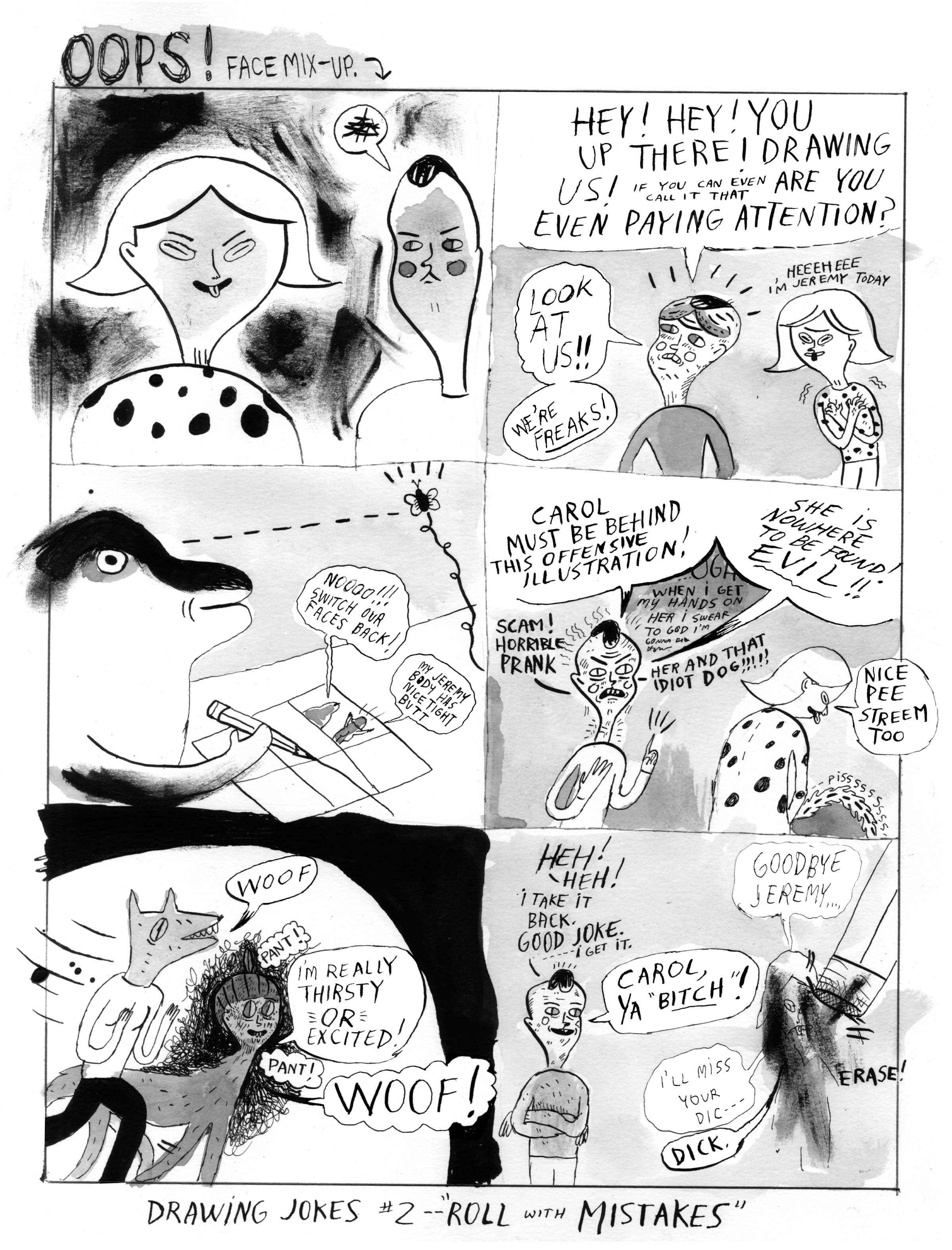 ---