It's been longer than i planned to write this review, but 2014 started off with a wimper. There was not one book that i was crazy about, and i found most of them all pretty  boring. Like, I don't even want to write about this-boring. But hey, the comics were read, and now i will write about them. I'm also way behind on some graphic novels i have to read.
East of West #8 – Hickman & Dragotta – Good
Probably the best of the batch. I'm jumping right in, and it hits heavy with an honestly scary evil President, some nasty brain creature thing, and really great cityscapes and world building. There are mini-chapter breaks of sorts, which are all white pages with off-white lettering. On first read, i missed them, but they add nice little beats and a subtle bit of dread to the entire comic. As a whole, the story feels like Blade Runner with bits of manga horror, but Dragotta's artwork has a pretty classy robust feel. He knows how to move a camera about a scene, when to go super close, when to stand back and show us more. Like he really learned Wally Wood's 22 panel's that always work: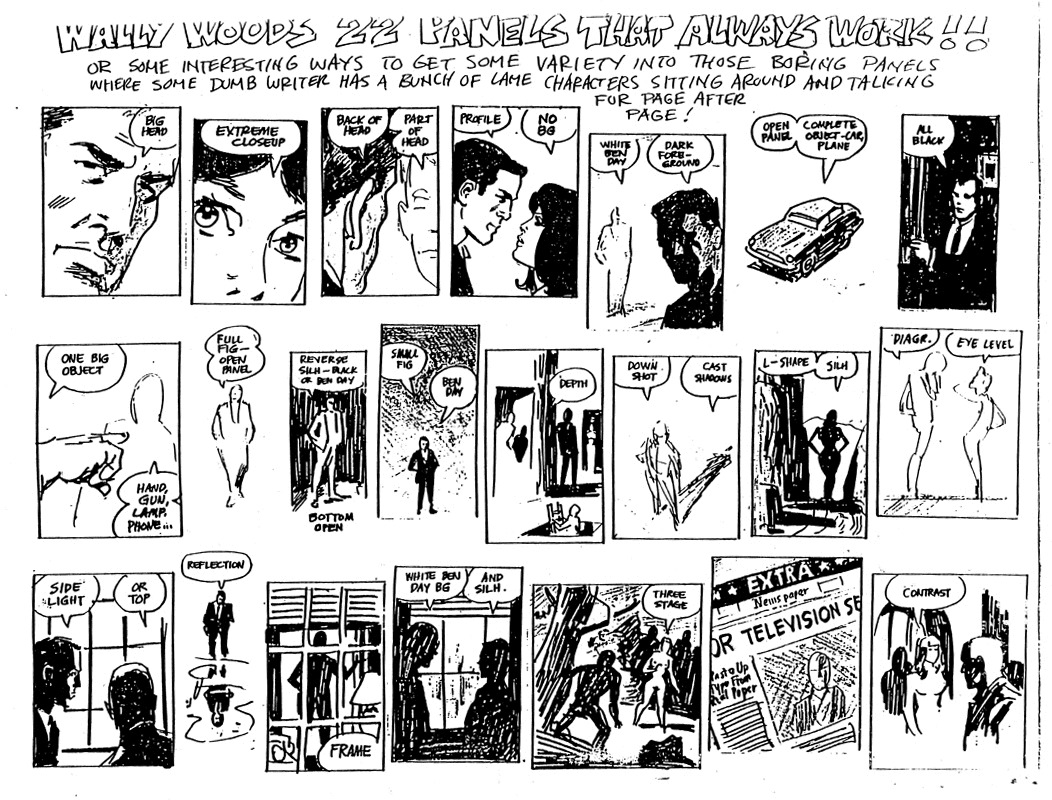 The colors by Martin are really great as well. The entire issue is oranges, blues and greys, and as much as orange/blue has been done to death in movie posters, but where those posters appear to be the result of lazy copycatting, in East of West, it looks new again. A lot of time you hear about how colorists are ignored in comics news, but honestly, most colorists should be ignored. Its rare that i see a colorist who's work not only stands out but also seamlessly supports the linework. Its often too much or not enough, too literal or too audacious.
Pretty Deadly #3 – DeConnick & Rios – Good
So i bought another issue of this comic, and i might have enjoyed Rios' work even more in this issue.  The river of blood, the horse-skull man, the hella' creepy multi-arms thing bursting out of the river of blood. But as you can tell, this comic is really grooving in it's dream logic narrative. I still have no clue what's going on, who wants what, what is the conflict. There's mini narratives within the larger narrative that makes sense, but on a whole, it's like when you're dreaming you're in your kitchen, and then the scene transforms to your kitchen in an airplane, and your mom is played by a woman you've never seen before, but you know it's your mom for some reason. I wonder if that same phenomenon is connected to Capgras delusion? But anyway, not sure how satisfying a read it was, but the art is still stunning, so maybe i'll continue to see where this goes.
Fairest #21 – Andreyko & McManus – Crappy as fuck
You know what i hate in comics? Dudes writing about rape. You know what i hate about dudes who write about rape? How fucking sanitized it is. So one of the major scenes in this comic, is "Cin" – short for Cinderella, is tied to a chair, in sexy lingerie, Black Widow in Avengers-style, by sex traders. This is sex slavery:
"She was kept there for three days, raped by three to six men a day. When she returned home, her mother sent her away for stints in two other brothels, including one 400 kilometers away on the Thai border. When she learned her mother was planning to sell her again, this time for a six-month stretch, she realized she needed to flee her home."
I find it kind of irresponsible to use sex slavery as just another plot point where the sexy little white girl saves the day by opening up a trailer and telling them they are free. Fat chance. I wonder how a comic like this gets approved? And the art was pitiful. Simple mistakes like a character remarking on an open-toed high heel, and the artist has drawn a closed-toe high heel! THEY ARE NOT THE SAME THING. It's just sloppy, a bit amateur, and completely disposable.
I've never read Fables before, but if this is a taste of the larger universe, folk tales with a shitty veneer of maturity by placing them in a modern context, no thanks. Cinderella owns a shoe store now, WOW – SO CLEVER. Corny garbage.
Red Sonja #6 – Simone & Geovani – Crappy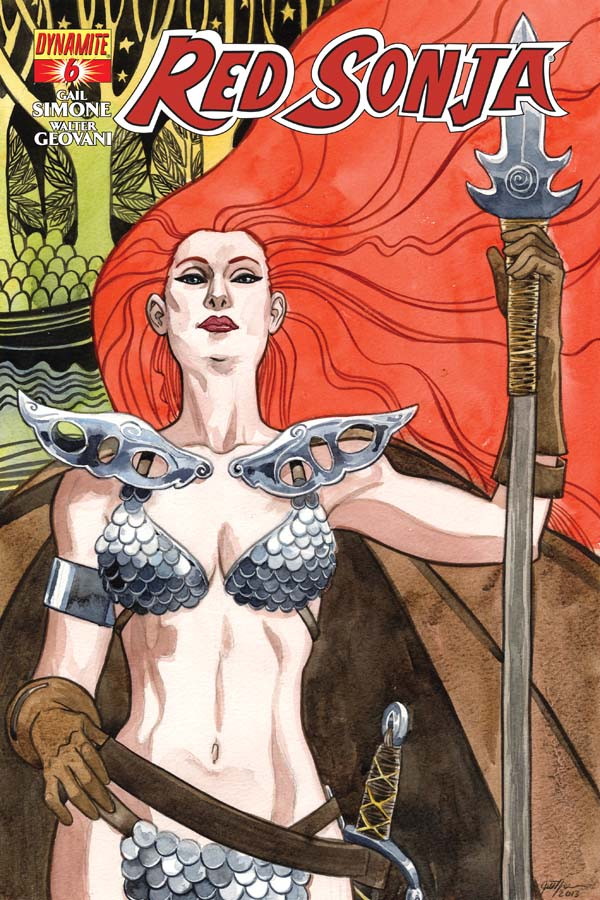 How many stories are there about an evil king who's hurting his own people and must be stopped by a destined hero? Thousands? I guess it's now an original story if you make it a destined heroine. I've never read Simone before, and this doesn't make me wanna read anything else of hers. There was not one original idea in this comic, it could've been created by a dungeons & dragon campaign generator. There's a poison that everyone has believed is a plague. I'm not really sure how that would work, i didn't really see any symptoms besides "Feels intense pain and dies" Why it was necessary to distinguish between a poison and a plague in this pre-medieval society, and not just some weird hex on people, i couldn't tell you. Could people spread the fake-plague by being in proximity with each other? I don't know. It's just fucking stupid.
Also, Red Sonja is wearing her chainmail bikini on the cover, which is a gorgeous illustration by Jill Thompson, but is in full body armor in the interiors. Can we just accept that chainmail bikini is really dumb and give her a dope ass suit of armor? Because her armor was so dull and cliche and boring and nothing about it, made me think "HERO". It just looked like the same clothes everyone else was wearing. Take a lesson from Thor, Red Sonja. That dude knows how to look distinctive. With or without clothing on…
Rat Queens – Wiebe & Upchurch – WTF COMICS? WHY SO SHITTY?

This was maybe the worst of the week. Another D&D campaign as a comic. I don't want to read about the shitty adventures your Dungeon Master cribbed from a sourcebook in 1995. I guess the idea is "I have this cliche adventuring story, i guess i can make it less cliche by making all the adventurers into sassy women" NO. Don't do that. I'm tired of the brain dead way we write women. God forbid we see a STRONG FEMALE CHARACTER who isn't also FANBOY PORN FANTASY. You're not challenging anything by drawing skinny, pretty, flawless mary-sues. I wanna see a woman who's as ugly as the Thing in Fantastic Four, or who's as diesel as Glory by Joe Keatinge and Ross Campbell. I just am tired of having to believe that a woman built like a prepubescent boy can wield a broadsword with enough force to shatter another man's sword ( this happens in the comic )
What we do get is a dwarf/halfling type lady, who gets a passionate kiss from another woman, and it really just looks like we're looking at some pedo-fantasy or some shit. It's bizarre. Its like everyone bought the 'How to write women, for DUMMIES! by Joss Whedon" handbook. Whatever, if you see Rat Queen in your local comic shop, burn down the shop. Find the publisher, burn down the publisher. Go to comic cons, burn them down. Just kidding, i don't hate it that much. But it is terrible.
Check out that creepy shit:
Amazing Xmen #2 –  Jason Aaron & Ed McGuinness – Not Amazing
I have never been a fan of Xmen. The whole 'lets make them mutants so we dont need to have an origin for every character" always was boring to me. But i guess lots of people love them. In this comic, the Xmen don't die, but they go to hell and they go to heaven. Somehow, this made sense to the writer and the editors and everyone else that got this to the shelves. To me, it basically just comes off as dangerous as their danger room. That is, not dangerous at all. Even though Storm is in hell, 'where there's no weather', which is fucking stupid, because a hell would be much cooler with hell weather than with none. What a missed opportunity for thunderstorms of virgin's blood and snow storms of children's regrets! No. We get red dirt and red skies and red brick work. I'm constantly disappointed at how little imagination goes into comics, when you can draw whatever you want. It's not hell if its bearable. But Storm doesn't have any problem fighting hoards of demons. Because she's a strong female character, of course a depowered Storm can fight just as effectively as Wolverine. Iceman? He keeps complaining how hot it is. Not painfully hot, just like summer day hot it seems. Dude doesn't melt, he just gets icier. Wolverine is fighting in heaven, and its all pink clouds. And somehow, there's an up and down in heaven, even though i'd imagine its an astral plane that you couldn't simply fall from. Basically, don't go to philosophical concepts of eternal pleasure and eternal pain and have it just be as artificial as a sound stage. Barely even finished this comic. Watch Event Horizon instead
Saviors – James Robinson & J.Bone – OK
This is a very OKAY comic. Like, so OKAY, i don't have much to say. Its main character is a pothead, which i always hate, because its like a pothead's pot dream that he really sees the real world when he's smoking, and its not just pot fueled fantasizing. But potheads are always like "This would make such a good comic! What if like reptoids actually exist!" after watching one to many youtube videos. These people always sort of believe their own bullshit, and so it gets a bit tiresome. So this comic is about a dude who smokes a lot, who doesn't have any ambitions, and discovers that there's aliens impersonating people in his small town. For unexplained reasons, rather than letting everyone think he's even more of a loser than he already is, the aliens chase him down and kill his best friend. You'd think the main alien, who is impersonating the Sheriff, could've just had him arrested on possession charges, if he really wanted to get rid of him. But intergalactic shape-shifting extra terrestials can't think of a better plan than running after him.
The art is pretty nice in some pages, in that kind of lazy webcomic style. A bit generic, but i can see his art getting really great with some effort. Double page spreads was a nice touch. But it's a better comic for free comic book day, the time of the year where comics publishers give away comics you wouldn't buy in the futile attempt to convince you that they are selling comics that you wouldn't buy.
That's all for the week. A weak week.
---