I went to this small press comics convention today, called SHORT RUN. I went with a friend, we had plans to do some other things, and was asking me how long we'd be in there. We stayed an hour and i saw too much. If you've been to one small press convention, you'll see about a hundred cats that all got the same spots. I think a lot of people would at least say that they want EVERYONE to read comics, but when it looks like a cool kids club where your uniform is bad body odor, cat-eyed glasses for the ladies and stupid little hats for the boys, then you think they'd be satisfied with their friends reading it in the bathroom later that night.
Independent comics, self published comics, have the BEST opportunity to not only stand out from the crowd, but to appeal to a whole new crowd, and attempt to get them there. But the art is almost laughably identical. The artists look up at you with hungry eyes, soft-sells to buy their overpriced xerox comic, and all i can think was "Your shit looks like everything else here"
A few highlights of the show. It's always good to see that the indie scene is almost 50% split on the gender front. Race-wise? Its whiter than the back of a map. It was free to get in, which is smart, and the size of the convention provided a good crowd to table ratio. Would i recommend going to it? No. Don't table at any conventions, it's a trap. But if you wanna buy a lot of self published comics that have shitty art and shittier writing, you can't do any worse than that one. However, the comics i did buy, had a better ratio of things i liked than when browsing at a comic store. What does that say? I believe the best ideas will come from the self published crowd, if they could stop their daisy chain for a minute and actually care about increasing their skills. On to the comics reviews.
This is one month of me doing comics reviews. After today's review, i will see what the average rating of the lot of them was, partially as a snapshot into the quality of comics each month, and also as a snapshot of my own mood towards comics. It's not scientific at all, because i can barely do math, so bear with me.
The end of the month was a big haul, so big, that some had to be left for next week. I'm changing the rating system slightly. It will still be TERRIBLE – CRAPPY – OK – GOOD – GREAT – AMAZING, but if there's a significant quality difference between the art and the writing, i'll indicate that. First off this week is
CAPTAIN AMERICA – WINTER SOLDIER vol 1 & 2. – Brubaker & Various Artists – OK
This was one of those comics that was a recommendation. Upon making one of my sweeping statements that there hasn't been anything amazing in the last 20 years, this was offered as a possible candidate. Recommendations are awkward, because as much as you wanna believe that a person really thinks this is "AMAZING", it's very hard to ask them for another book recommendation when their definition of amazing basically amounts to "Decent art and a story that is cohesive and mildly entertaining" My bigger criticism though, is what i call PRAISE INFLATION. I think it's a result of 1. an overly friendly professional community 2. no one actually is looking outside of comics for quality. I just came home from 12 years a slave, and that movie made me cry like a little bitch, really powerful, expertly acted and expertly filmed. EXPERT. Not DECENT. The distinction is important, and i guess when you're eating so much shit, when you get a mouthful of froot loops, you'd believe it was fruit from the Garden of Eden.
Look upon that scene, and tell me that you can say that's AMAZING in the same breath as you speak of CAPTAIN AMERICA: WINTER SOLDIER. Maybe i'm comparing apples to oranges, or maybe i'm comparing apples to froot loops. I got a simple barometer of taste "Did this provoke an emotion?" Was i excited? Saddened? Elated? Inspired? Or did i close the book, and think "meh".
Brubaker really crafts a serious superhero action story, but most of it's energy is spent trying its damndest to craft a slick thriller. It doesn't work. You're never in any doubt who is the assassin (Spoilers – IT'S BUCKY!), and you never are shown any real reason why this assassin is fucking with Captain America. And let me be clear, he really just fucks with him. Doesn't kill him, doesn't kill his friends, and all the mysterious mysteries don't ever illuminate what the grand scheme of it all is. The nature of endless serialized superhero stories means that the writers NEVER have any balls. This comic has written on the back cover, "THE STATUS QUO SHATTERING SAGA". Such bullshit. Not only is it not a saga, since it takes place within about a couple week's time in-story, it's not status quo shattering in the least. Everything remains the same as it began. The only people who get killed, you've only seen for one page or two. Any important characters are spared, uninjured, and continue the fight the next day. The solution to years and years of brain washing and war trauma, is Captain America makes a wish, and the Winter Soldier is Bucky again. It's a bullshit solution to what was trying to be a smart comic. Brubaker REALLY tries to sell you on the idea that Captain America would put a 16 year old kid in harm's way, specifically to do the dirty deeds in war. But you can't have it both ways, you can't present a realistic world with moral consequences, where the Captain is this paragon of virtue, and then have him easily convinced that "Yeah, sending a kid to do black ops is totally fine"
Its very clear here, where Marvel Movies get things right, because the idea of a sidekick is so outdated and frankly – STUPID, that they aged up Bucky in the films, so that you wouldn't think "WTF CAPTAIN AMERICA" Honestly, if he didn't want to be haunted by war crimes, he shouldn't have enlisted child soldiers. That's not a question Brubaker deals with, because fanboy nostalgia means you break your back to include the things you love, instead of trying to just write a damned good book. Its OKAY. If you want to see all the different ways that you and the Captain can make it happen, it'll be a good read. If you actually want someone to change your mind on what is a great comic, this won't be it.
SAGA vol. 1 – Brian K. Vaughan & Fiona Staples – Good Writing / Ok Art
I got mixed feelings about this book. On one hand, the pacing and character interactions are really sweet, and it was really brisk and easy to read. On the other hand, it started off pretty rough, and there were tons of characters that i could not care less about. Basically, any time one of those computer head characters were around, i just wanted to skip ahead. That, along with some pretty shitty world building, made me want to stop reading it. Little things like winged characters that live in a world with stairs and ladders. All of the science fiction elements were window dressing, and it probably would've been better served reducing a lot of those details. There's this cliche galactic-wide war in the background, and i really didn't care about any of it. The art can get reeeeally weak when it comes to the backgrounds, and i wish they hired another artist for that cause there's not one background that's more rendered than a few colorful brush strokes.
That being said, once the bounty hunters and forest Ghosts got involved, and the story was chugging along, those details could fade away and allow the character interactions to shine. This story actually seems to be much more like a fantasy, that happens to have science fiction elements; think Star Wars with more visible genitals and written/drawn by a creative team thats actually gotten laid a few times. The last 20 pages is what changed my mind on this comic, so hey, go check it out and see how you feel. I might even go actively follow where this story goes. I wouldn't be surprised if this got adapted into a miniseries, because the dialogue is sharp like dat.
One nitpick – but i like to point it out, in every comic i see. There are two sex scenes in this comic, and one of them is an orgy. In this orgy, they are like five different couplings of female on female. You know how many depictions of male on male there are? None. In a galaxy far away, with sexy spider woman with bared breasts, and caterpillar whores, there's not one dude who wants to suck dick. No. But lesbians aplenty. It's really annoying that science fiction writers gotta be so fucking hetero all the time.*
*ASTONISHING DEVELOPMENT – So when looking for images for this article, i read that in a later issue of Saga, there is a scene of gay sex, but it's on a tiny screen. I guess that's better. Hip hip Hooray! Blowjobs equality!
Cartozia Tales – Various Writers & Artists – Good for Kids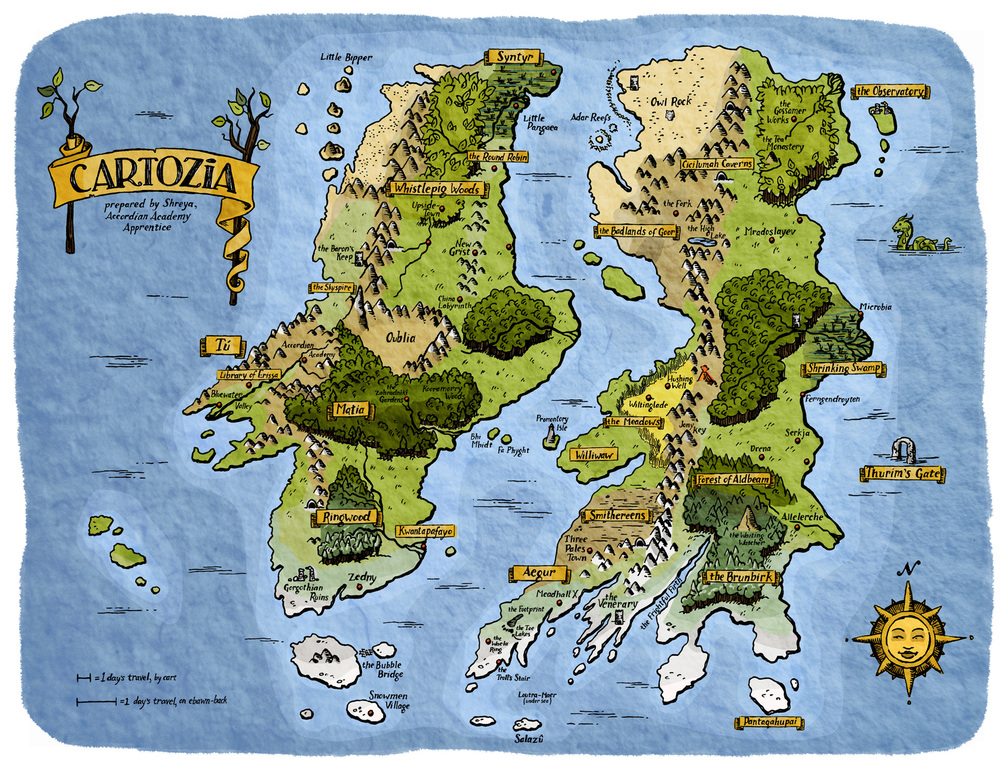 You know how easy it is to get a good rating from me? Just throw in a good ol' fashioned fantasy map. I go nuts for that kinda thing, and when i was a kid, i'd pour over the details of them. Anyway, this is an anthology, and so it's hit or miss in some stories, but the tone is pretty consistent, and if i was a kid, i'd be inspired to draw my own Cartozia Tales. So good job Team Cartozia.
Island of Memory – T Edward Bak – OK writing / Good Art
I got this today at the Short Run comics thing, and honestly, i haven't finished it. The art was pretty nice sometimes, like looking through a frosted glass, which compliments the icy setting it takes place in. But often times the writing was very stilted, but more so, i just felt kind of bored 3/4 of the way through. I kind of feel its a bit of the fault of the subject matter, which has a lot of period piece conversations and bunch of dudes lost up in the wintry wilderness. Boredom is maybe the worst enemy of any story, and i don't fight it. There's only so many hours in a day, and if i wanted to take a nap, i'd get in bed and close my eyes. Maybe i'll finish this later, but i doubt it. I think i'd prefer to see another book by the artist, because i don't doubt he could write something captivating, this just wasn't it.
Thunder in the Building #2 – Margaret Ashford-Trotter – Ok to Bad Writing / Ok Art
This was the biggest disappointment of the entire haul. It read like you were walking in on the middle of conversations, catching glimpses of someone's photo albums, and completely disconnected from "WHY SHOULD I CARE." It's not that the writing was bad, it just was in service of nothing. Some girl and boy hit a dude by accident once, and then she got cheated on? or Did that happen first? Then she reports the crime? Or was that in the past? There's so much time jumping, with no indication of what time has passed, that its extremely chaotic and just leaves you feeling lost. The art is really plain. Like plain like that movie She's All That. It could be beautiful, but its just so obnoxiously plain, you feel it had to be intentional. It doesn't do the story any favors, the whole thing is like receiving a box of broken crackers. They are plain, they taste the same as normal crackers, but i don't fucking want broken crackers. This won a xeric grant. My reaction to this comic is best summed up with an emoticon. :-/
Harley Quinn #0 – Various Crap – Terrible Writing / Useless Art
You shouldn't write meta fiction if you're an idiot. I don't even got much to say, besides the usual DC diatribes. But this comic, each page is a new artist. Perhaps, with all these different artists, and 22 pages, the writer could think of a better idea than "OH I GOT IT! ON THIS PAGE, SHE SHOOTS EVERYONE!" But that's almost every page. Every joke. Every wink at the audience. It's like watching a bad impersonation of George W. Bush. You know the president was an idiot to begin with, but someone poorly impersonating an idiot, is somehow even more pathetic. If they wanted to be meta, here's a good idea for Harley Quinn #0: Don't print any art, simply apply the cover to a roll of toilet paper, and never wipe your ass with it. You wouldn't want to give DC any of your best ideas.
The Reach of the Mind – Sam Bell – Nonexistent Writing / Good Art

I've been considering writing separate reviews for Artbooks. So many comics i read, especially indie comics, are so devoid of story, as to be simply sequential art books. This doesn't really bother me, if the art is really interesting. And this comic was pretty satisfying. Gorey as all hell, but some rendering that is sometimes gloriously incomprehensible. I wonder what it'd look like with color. Anyway, if you like gnarly skateboard deck crazy shit, read this comic.
Vortex – William Cardini – GOOD (same as above)

Taking a different approach, definitely more digital dot-matrix, but equally bizarre and black & white as The Reach of the Mind. This comic also, enjoyable art, but music-video level story telling. Which one did i like better? Probably Vortex, mostly cause it was cleaner and the artist seemed much more confident of the images he was making. That panel above was the bees knees, and just a nice little moment. Little still moments like that are where comics prevail, and this comic has lots of cool brain bending spots, so i'd definitely keep reading this series, i think its up to #4 now.
Okay, there's a few more, but i'm tired and running out of space, stay tuned for my PICK OF THE MONTH : POOR THING by DREW MILLER

---